Owens Aluminum Dog Boxes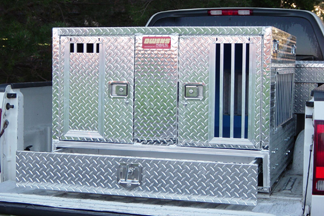 When traveling from point A to point B with your dog, you have a number of options for keeping your dog safe and secure.  These choices include a kennel, tether, seat belt, or aluminum dog box during travel.  Here, the merits of a dog box will be discussed.
Why Choose an Aluminum Dog Box?
Safety
Should you ever get into an accident with your dog in the vehicle, you need to know that your pet is safe.  An aluminum dog box is the safest restraint for your dog because it is heavy enough to stay in place in the case of a minor accident, and durable enough that it will not shatter or break in case of a more serious collision.  Plastic kennels, on the other hand, can easily become projectiles with your dog inside, while tethers or seat belts can potentially cause serious harm in a bad accident.
Security
An aluminum dog box can be locked from the outside, ensuring if you ever have to leave your dog in your vehicle, he or she will be safe.  Dog boxes are also heavy enough that a potential dog thief cannot simply pick up the dog box in the same manner that a kennel can be carried away.  
Style
There is no doubt that a quality piece of aluminum craftsmanship adds a sense of style to your vehicle.  
Storage
Many dog boxes also have additional storage areas, such as compartments or drawers.  
Durability
Plastic kennels are known to freeze and crack when the temperature drops below freezing.  An aluminum dog box will never break due to temperature fluctuations.  
Comfort
Plastic kennels do not protect dogs from extreme temperatures.  Aluminum dog boxes, on the other hand, can be lined with insulation in order to stay warm in the winter and cool in the summer.
Why Choose Owens Aluminum Dog Boxes?
With so many aluminum dog boxes on the market, how can you choose the right product?  The following are only a few merits of Owens Aluminum Dog Boxes.  
Made in the USA
All Owens aluminum products are proudly made in the USA from materials that are sourced in America.  
Durable
Diamond tread aluminum ensures years of durability for products that can stand up to the wear and tear of off-road transport.
Secure
All Owens Dog Box models have secure, slam latch doors that are lockable.  
Lightweight
Unlike other aluminum dog boxes, Owens dog boxes are still relatively lightweight, with most models weighing 95 – 110 lbs.  
Multiple Options
No matter your needs, there is an Owens dog box for you.  Whether you have one or multiple dogs, prefer storage space or not, or would rather build your dog box yourself with pre-cut aluminum materials, Owens has you covered.
Trusted
Since 1965 Owens has been a leader in aluminum products for vehicles.  This brand is one of the most trusted in the auto industry!