Product Review of the Dogtra YS-300 Bark Collar
Nuisance yapping from small dogs is frustrating, yet there are few products targeted towards small or sensitive animals.  The Dogtra YS-300 overcomes this limitation, and will be reviewed here.
The Dogtra YS-300 is designed for dogs 10 lbs or larger.  This no bark collar, which is the smallest rechargeable collar offered by Dogtra, is sound-activated and utilizes a microprocessor to detect your dog's bark relative the background noise.  There are 6 levels of mild to moderate stimulation, and a non-stimulating pager setting provides a vibration warning before any correction is administered.  Like all Dogtra no-bark collars, this unit is fully waterproof.  An LED battery life indicator and 2-hour rapid charge batteries ensure your dog's collar never runs out of power, while an antimicrobial strap and surgical steel contact points complete the package.
Advantages of Dogtra YS-300
The main advantage of the Dogtra YS-300 no bark collar is that it can be used on dogs as small as 10 lbs.  Additionally, the 6 levels of stimulation are ideal for sensitive pets.  The microprocessor elevates sound-detection technology to ensure your dog is not unfairly corrected.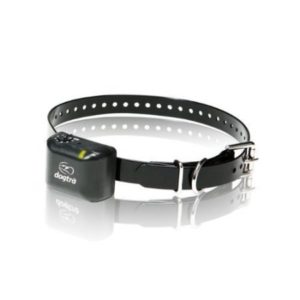 Limitations of Dogtra YS-300
While the Dogtra YS-300 collar is designed for small dogs, it is not appropriate for many toy-sized breeds.  Additionally, lack of dual sound- and vocal cord vibration detection could potentially result in inappropriate correction.  
Who Benefits Most from Dogtra YS-300?
Owners of small to medium sized dogs that are not good candidates for full-size no bark collars will benefit most from the Dogtra YS-300.  The surgical steel contact points guarantee that even the smallest dogs will not develop unnecessary irritation from the static stimulation.
Who Benefits Least from Dogtra YS-300?
Dog owners with toy-sized breeds smaller than 10 lbs or with particularly stubborn pets will not benefit from the mild to moderate stimulation provided by this no-bark collar.  
Bottom Line
Ultimately, the Dogtra YS-300 collar fills a void in the no bark collar industry.  This compact collar is perfect for small pets and those that are sensitive to the traditional intensity of static stimulation.  This safe, easy to use product is great for even first-time no bark collar users.